BLOGS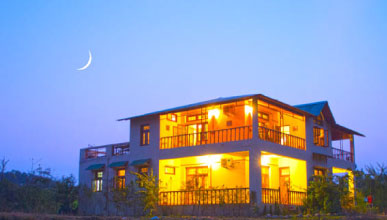 Ranger's Lodge - "A Homestay in the Mid of Jungle"
Rangers Lodge isn't a normal lodge or a resort but a real jungle resort where you can actually experience some good adventure. This resort is located in the middle of green fields and is a very spacious yet cozy place for the visitors. Rangers Lodge is having a beautiful structure from inside and outside also. This place offers the amazing delicious food on the plates for visitors comes directly from the kitchen's garden. All the vegetables used are organic and fresh to keep the healthy diet of visitors. Rangers Lodge belongs to a person named, Imran who is a dweller of the Ramnagar village. He came with an idea of building a resort which is much for the adventure lovers. You can go for a jungle safari which will be accompanied by a guide who can clear all your queries and doubts about the jungle and will also give you a lot of knowledge about the Jim Corbett jungle.
Rangers Lodge is a place which is the best for the people visited during any time of the year. Visitors can simply stay at the resort and spend the weekend with friends having enjoyable games which one wouldn't find at the cities.  Apart from this the relaxation you will find here cannot be find anywhere else. There are different suits for the people to choose from for the stay during the weekend and if you are planning a bit longer weekend then a person can have an itinery for it after consulting the Lodge. All the rooms here are wide opened windows which are facing the greenery of the jungle and with a balcony in which person can relax and sit for a cup of tea.
Rangers Lodge is meant very carefully for all kind of the requirements of a person and every room is equipped with all the necessary facilities in the room. Rangers Lodge doesn't need any definition to describe it but it is an ultimate place for the visitors. So head to this amazing Lodge for the never ending fun you will experience here and cherish forever. Moreover this place is perfect for the weekend since spending one or two nights is very much suitable and you will be able to explore a lot of from the jungle. So the jungle is waiting for you totally unexplored, visit and explore all the different zones of this huge national park known for its rich population of tigers.
Read more at :  www.therangerslodge.in
For more details about best resorts in India visit : www.imaholiday.com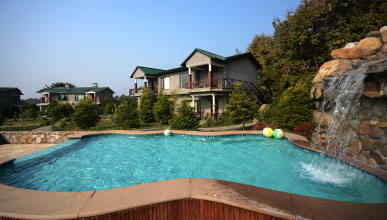 Aahana Resort - An Eco-Friendly Wilderness Resort
Aahana Resort is an eco-friendly resort situated at Jim Corbett park which makes it a perfect place for nature lovers. This place is hardly 5 hours of drive from Delhi and it works as a great getaway during the weekend. The story behind the Aahana Resort's name is famous, it is said that the sun's first rays always fall on it and the resort shines bright because of the sun rays. People visit Aahana Resort for some peace of mind and enjoy the jungle safari but are this much is sufficient for the visitors? No. Everybody expects to have fun when on weekend and it becomes important when a person goes somewhere out for the weekend. Combining many other interesting activities with the package this place becomes a perfect place to spend a weekend with family or friends. This place from having a pool outside the resort to serving finger-licking food has everything in it. They have a never-ending list of visitors who returned with a happy curve on their faces. The resort offers seven different kinds of suits for the visitors as per the capacity and the need people can book them and different pools outside the resort for children and adults.
Aahana Resort is having many activities including indoor and outdoor games for kids. Those activities are a way of staying at the resort and enjoying the day without going out. A person can also go for the nature walk on cycle or on foot which is going to give you some spectacular green view all around. A jeep safari is a normal thing which every visitor does but going every time for it be the best because you will experience something different or will watch another kind of an animal you'd have never seen. Another ride the buggy ride is also a good option that takes you for a nature ride but in a very royal way.
Aahana Resort is having its own naturopathy center where people who are on a weekend can get a rejuvenating spa done for their body which is going to make their soul happy and body back into life. Their restaurant, Dhikala offers a multi-cuisine taste that s totally organic since it is an eco-friendly resort they use only self-grown fruits and vegetables for it. Even you can find a milk dairy also for the milk from where they use the real cow milk. Apart from all these there is everything very much perfect for every visitor and the visitors can enjoy many other activities than just indulging into the safari or ride but the indoor and outdoor games and the children can stay occupied with the playground. So, overall this package works for every person who wishes to spend a weekend away from home and wants to make most of it.
Read more at :   www.therangerslodge.in
For more details about the best resorts in India visit: www.imaholiday.com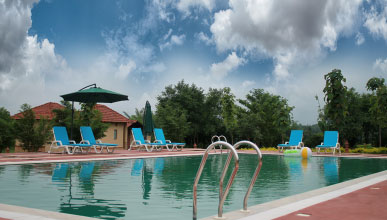 Soulacia Resort, kanha National Park
Soulacia Resort situated at the Kanha National Park is a place for people who love to get luxury and jungle in one place. At Soulacia Resort, there are several different things to experience when on a weekend. Here things never stop at just the stay at a luxury resort but they go beyond it and walk till the hiking and trekking in the Kanha National Park. This resort offers different kinds of stay for people. If a person wishes to experience the wildness of jungle then they can opt for the tents or the independent cottages and if wants to stay in warmth of room then can stay at the rooms of the resort. This is not enough; the rooms also make a person to look at the wide opened green jungle from the window at a time. If you don't want to stay inside then move out and explore the greenways of jungle or sit in the pool and feel relaxed with your friends. The bar & kitchen is the best for the tasty food with a coffee shop around which offers some very favored tastes.
At Soulacia Resort, one can also experience some spa and naturopathy treatment. When on a weekend a spa would work the best for rejuvenating the body from the whole week's hard work. For a level of experience people can take their children along for the weekend so they can understand the efforts Resort authority is making for a cleaner & greener environment and they can also follow the same thing. Soulacia Resort is an eco friendly resort and keeps everything in such a way that it don't harm the environment. Kanha is huge park and people even go for the hiking & trekking there and reaching at the top point of the mount you will see the beautiful sunset like never before. Apart from this if you count on the adventure then you can also go for a jungle safari whichever way you wish to, by jeep, elephant or nature walk on cycles or on foot.
Jeep Safari & elephant safari are done during the particular time but the nature walks are mostly preferred during the time of morning when the nature is the at its best and even if you wish you can go for the jungle safari in the morning since it will be time animals will be active. Staying at resort won't let you down. You can collect a lot of knowledge from the books present at the Soulacia Resort or even can enjoy the free activities at the resort which are for the visitors like the indoor and the outdoor games. This place is perfect area for the nature lovers and the people who love the adventure in jungles. Making your weekend perfect. This place never lets you down for it but even calls for lot of excitement among the visitors.
Read more at :  www.soulacia.com
For more details about best resorts in India visit : www.imaholiday.com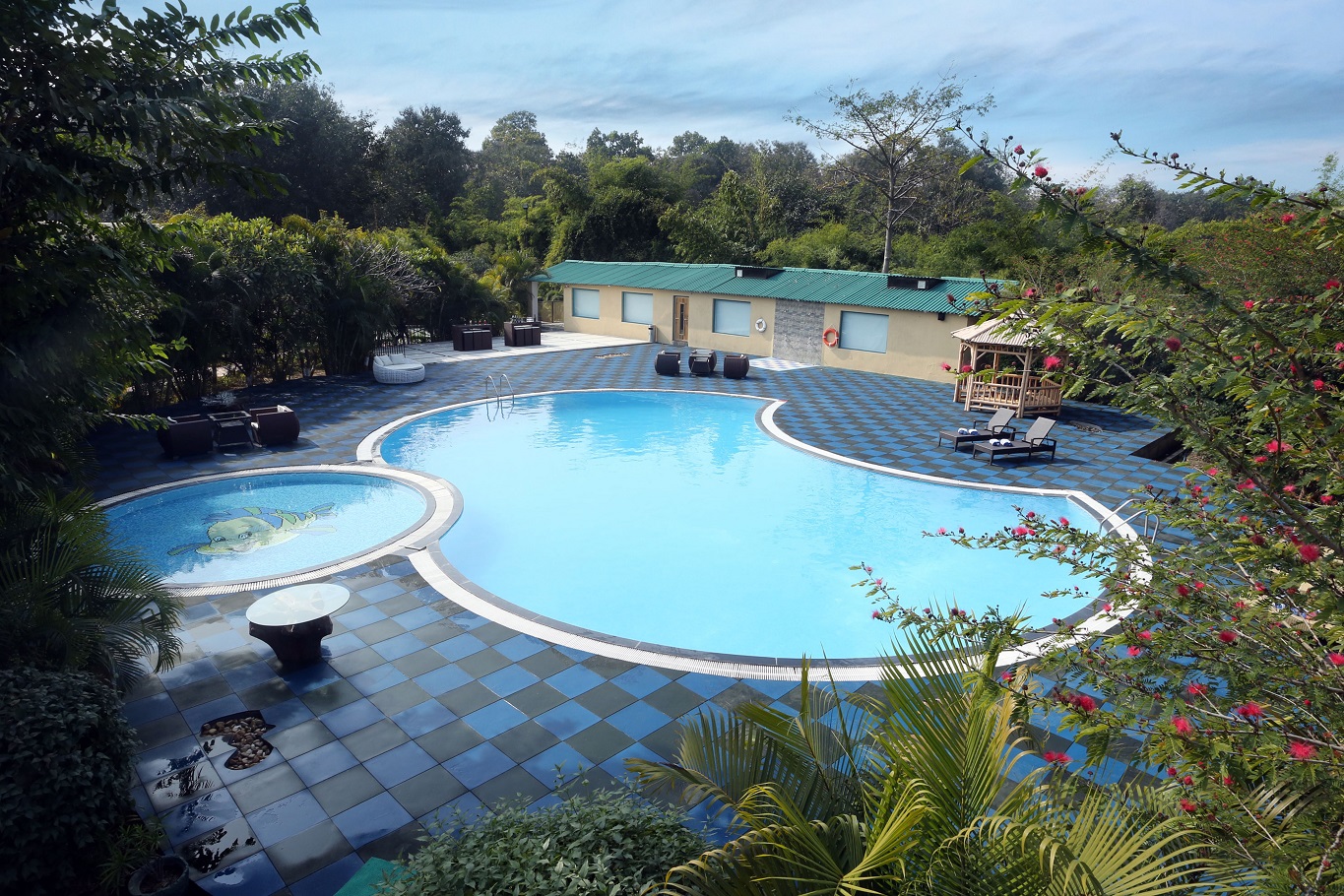 Acorn Hideaway Resort, Jim Corbett
Acorn Hideaway Resort, situated at the Jim Corbett Park makes a perfect blend of opulence and luxury. It makes children to rediscover the adventure and nature plus makes a great place to spend a weekend here. Acorn Hideaway Resort is the place which gives you different options for suitable suit as per your requirement. There not just only one thing to do but many other, a person may enjoy the silence of nature or go for a jungle safari with gang, and can even get rejuvenate with the Kratu spa at Acorn Resort. This place has another level of enjoyment for weekend and the complimentary activities a person gets too enjoy never makes them to go for any other place.
Acorn Hideaway Resort offers many activities and the ambiance which is created as per the color of nature makes a perfect place for visitors. The food they offer is perfectly organic and hence comes up to be the tastiest food ever tasted. The flavor of natural things is much tastier than the ones which are not and the serving here is done in a very graceful way so visitors do enjoy every inch of it. Providing with the every single thing this place is perfect for the weekend escape anytime not just for a particular season. People get a chance to stay in Jim Corbett and spend some good times. Acorn Hideaway Resort, offers with four different styles of room and every room is spacious enough and windows opening right towards the jungle of Corbett. A person wouldn't even get bored when in the room, every room is provided with all the necessary facilities and luxury. Rooms are made in such a way that a person stay connected to the greenery of jungle. Restaurants are the best place to enjoy the food here,
The Kratu spa, which is something much different from the other kind of spa is a must try for the visitors where India's ancient healing secrets are put to work in ironing out the kinks in body system. The Kratu Spa at Acorn Resort is done with all the natural ingredients and with the spa specialists who are having a good experience. Acorn Hideaway Resort sitting at the middle of nature offers many other things like exploring the jungle on jeep safari or may be just sitting in the pool outside the pool. The pool here separated in two sections which is different for the adults and children. Even if you are on holidays with your kids then they can also stay occupied with the pool or the playground in the outer area of the resort. This place is the perfect getaway for the family or youngsters so explore this place and the never ending fun here with your kids and the best services at the resort.
Read more at :  www.acornhotels.com
For more details about best resorts in India visit : www.imaholiday.com
EXPLORE THE EXCLUSIVE FUN AT FUN N FOOD VILLAGE
Beat the heat at Fun N Food Village because fun never ends here. Being one of the most famous Amusement Park in Delhi it is a place for all fun loving people. Fun n food village is a place where the hunt for amazing rides end. For some people it's about the rides on heights but for some it is the matter of some amazing time they spend with their people. Fun N Food Village is a place where mostly everything considered of fun can be found like the shopping mall, amazing rides, hotels for some rest and eateries all around plus a complimentary Dj area which is free of cost. Combing all these things together it is more than enough for a person to spend a whole day here with his/her friends. As the implies Fun N Food Village, this place offers a lots of fun and the food for people who loves enjoying so you can take a break and then again dip into the fun. There are lots of rides particularly for kids and a separate area for the adults with a small playground full of rides. Even there are few rides for the adults also like the giant wheel and many others so they can also enjoy all the rides. Spending a joyful weekend here is the best thing you can do here. This won't just relief from the stress but will you give a weekend which you will cherish, after all life is all about fun and making memories. Fun N Food village is a kind of urban village which is for every age group which many kind of fun. Fun N Food village offers all the necessary facilities for parking and first aid which are necessary in case of emergency and a proper tight security to guard the people. So explore the never ending next level fun at this amazing park having all the exclusive fun.
ADVENTURE STORIES OF ADVENTURE ISLAND
Adventure Island is similar to a place where each and every vein is full of adventure. Comprising lots of rides which are attractive and fun to try this place is just another level of fun and enjoyment for people. It's not just that this park is only for the adults but there is also a separate zone for the kids and family also where the kids can have fun, enjoy the little rides and parents can feel happy watching their kids occupied with such amazing rides. Adventure Island is having a separate water park also for the adults and kids as well where rides are separated as per the people. It becomes fun when you get to enjoy all things in one go. There is also a rainbow dance which consists of a pool having water only till our foot level and from the top different rainbow coloured bands shower the water and people enjoy that with the rides. What makes it interesting is the thing that it is at the amusement park of Adventure Island and the people enjoy it during winters also. Comparing to the rides amusement rides are much better than the water rides in Adventure Island. This park in Delhi offers many other paid water and dry sports also which are need to be paid differently after the entry in the amusement park. The best one could be the water coaster which is a big cylindrical shaped bubble and person gets into it for rolling over the water. It is quite adventurous also because oxygen inside the bubble remains only for 10 minutes and within that time the person has to return back to the finishing point so they can be taken out. For the safety measure a guard also stays nearby so in emergency he can deal with it. Many events are also organized at this such an amazing park which lets a person to feel like a day time party at Adventure Island. So what are you waiting for. Explore these adventures soon.
TAKE A DIP INTO THE WORLDS OF WONDER
Exploring Worlds Of Wonder is much like a new adventure every time for a new kind of fun. It's place with never ending fun and the rides which are as amazing as the visitors. Worlds of Wonder is called by a short name WOW, it is so because firstly it works like an abbreviation for the name and secondly every ride at WOW, be it from the amusement park or the water park but it's always amazing to see and try. It consists of many electronic rides and other water rides also which are very adventurous. Worlds Of Wonder is having three different things to try, the amusement park, the water park and the go-karting activity. Prices for tickets are different as per the number of people and the age groups here, besides packages can also be formed for the group if you are more in number or coming from a particular organization. 'Rapid Race' is the star attraction but the real gateway to a nail biting experience is the 'Turbo Tunnel'. Aside from these, there are numerous other slides, splash-down rides and a wave pool for your family to make some joyous memories. Worlds Of Wonder's amusement park is divided among two different zones, The Road Show & La Fiesta. The Road show is only for the adventure lovers and consists rides which are for only adults. La Fiesta is the place for the family and kids comprising rides for kids. You can either sit on the grasses for a small picnic or see your little ones laughing and enjoying the rides specially made for them. These helps in making a family package of hearty moments and memories. The third activity of Go-karting is the best and the most adventurous which redefines the meaning of speed with its wide enough road for this four wheeler kart. Apart from all these many events are also organized at Worlds Of Wonder in which famous DJ are invited to rock the party. so droll over the fun at this amazing WOW park which calls for only fun and gives you relief from the stress of your daily life.
FUN EXPLORED AT SPLASH WATER PARK
This park is more like its name, Splash water park. Splash Water Park is owned and operated by Sagu Dreamland Private Limited located in Alipur, Delhi. It is the best Water Park in North Delhi which is spread across an area of 5 acres of land situated at Main GT Karnal Road, Near Palla Moad, Alipur, Delhi-36. It's a unique blend of Indian Hospitality & entertainment, which offers a sense of privacy & peace, and is the ideal escape to calm countryside from the pressures of a busy life. It is having more of water rides than of the amusement park. Amusement park at splash water park is having no adult rides but few rides for under age of 13 which are catered under the joy rides category. They are named as the joy rides because kids feel joy when they ride into such joyful rides which are made specially for them. Except this they are having a huge water park and different slides are there which leads one to directly slip into the water pool. Splash water park is known for its water rides which are all exclusive and the rates which are lower than the expectations make it place of worth of try. Here, at the splash water park most of the rides are kind of slides from a height which slides a person into water and most of them are favourite of people. Splash water Park is an amazing park for trying on some good water rides which are beyond of what you have wondered about the water rides. Apart from just the water rides and amusement park they are also having restaurants for food which offers some lip smacking dishes for visitors. The packages which splash offers for the schools, institutes and the corporate people are good enough to try on since they remain in budget for everyone and Offers many different activities in one package. This never ending fun is waiting for you to come and enjoy it.
Now this place- Aapno Ghar is something much of upgraded level which is having more of facilities than others. Aapno Ghar combines of every facility and is much more than just being a single amusement park. From a water park to a conference hall for meetings there is everything at Aapno Ghar you can think of. So if a person is coming somewhere from outside NCR also then they can spend their night at the Aapno Ghar luxury rooms available there. They offer different suits as per the requirement of the person. The restaurant here is quite huge and divided among the Baza( Restaurant) and the Madhushala(bar). Here they also offer the Banquet facility and the open party lawn for the people who wishes to celebrate their any auspicious occasion here. They even have a conference meeting hall for the business purpose so people can arrange for the business meeting here without any problem and impress their guests by offering them a ticket to amusement park, so the work can turn into the fun with the colleagues. Then yes! We all know for what is the Aapno Ghar known for… the Amusement park and the water park. Both kind of rides at the Aapno Ghar are amazing and also a must try. This park is one such place which is having many rides for the tiny tots also and for adults as well. For the people who love to try different then Aapno Ghar is also having a Bhul Bhulaiya which is a puzzle in which people enters from one place and exits from another. It is actually fun trying it and finding way to move out. For kids entertainment Aapno Ghar is also having Pan Ball game in which many balls are putted in one place then kids get in and throw balls on each other. That makes fun for the kids and apart from this they organize for the puppet show also which is for both adults and kids. So this never ending fun is waiting for you to come and enjoy every bit of it.