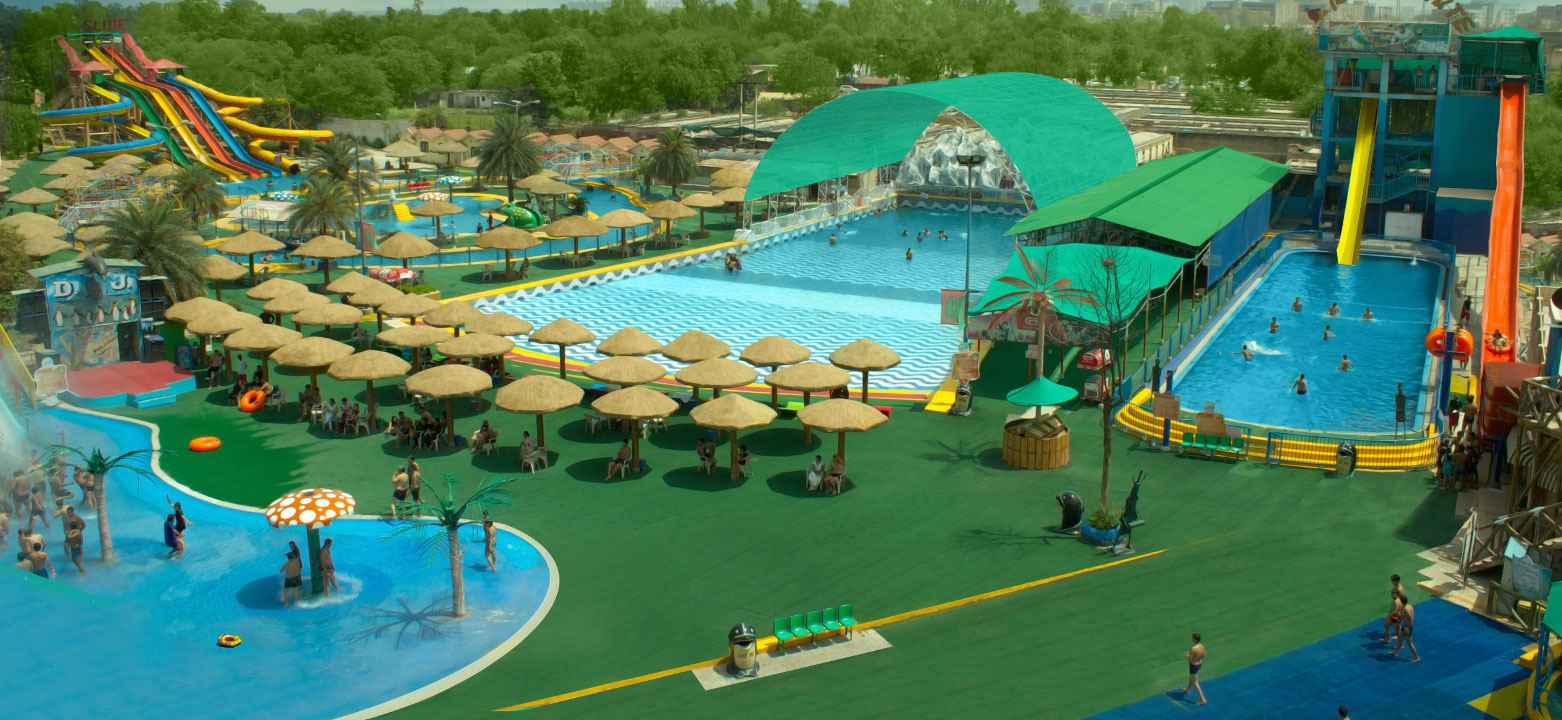 The Fun 'n' Food village in Delhi is an entertainment place which features joy rides, water games, rain dance, a water park (also known as the Village Park) & an open-air theatre. It is nestled within lush greenery and serene atmosphere, there are many water games that's ideal for young children's and adults, the park has beautiful greenery surrounding. It is amongst the best adventure parks in Delhi. It also has India's first & largest indoor Snow Park which conducts skiing & skating lessons. Besides all this it offer great health club facilities including jacuzzi and spa besides great food to munch on.
Address: Fun N Food Village, Kapashera Border, Alipur Road, Civil Lines, Delhi
Fee: Male – 600, Female – 450, Couple – 900 (can be change)
Phone: 011 4326 0000, 9990006526
Fun 'n' Food Village | Old Delhi-Gurgaon Road, Kapashera Estate, New Delhi-37
Adventure Island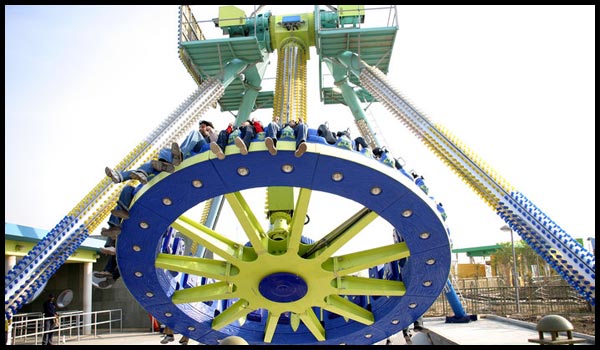 Unitech Amusement park in delhi is dealing in Amusement, food court and many more, is ideal place for refreshment for Delhi peoples in the summer, is spreading across 62 acres and boasts 26 different types of rides, the Park offers mainly free-fall ride, demolition derby, merry-go-round, etc. There is special zone for kids and young children's. H2O zone, MAD theatre, and HQ are the attractions here that fills the Amusement park extra interest.
Address: Ram Murthy Passi Marg, Rohini, Sector 10, New Delhi, DL 110085
Phone: 011 4704 1111
Hours: Wednesday 10:00 am – 10:00 pm
Adventure Island | Murthy Passi Marg, Rohini, Sector 10, New Delhi, DL 110085
Worlds of Wonder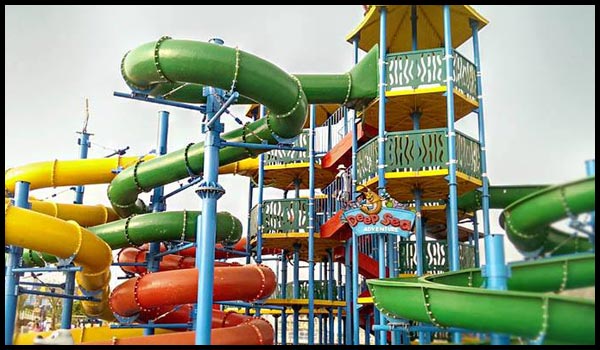 While the water park in summer attracts adults & children alike, WOW has achieved recognition & popularity, mainly because it caters to all age groups. It comprises over 19 exhilarating rides, with variations of simple rides for kids to complicated suspenders for adults and an artificial lake designed by the legendary illusionist Franz Harary. Also, an indoor gaming facility with a lounge area, pool tables and bowling alleys, besides paint-balling is the most colourful way to de-stress yourself. Worlds of Wonder is amongst the best adventure parks in delhi and has the best water park in delhi also. Entry tickets range between Rs. 600-1000 for the amusement and water parks (higher rates on Sunday) The water park has Super Sundays where music concerts are held every Sunday eve. Ticket prices range from Rs. 499-1049.
Worlds of Wonder | A-2, Sector 38-A, Noida-01
Just Chill Water Park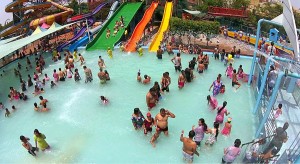 Just Chill Water Park in delhi is with all the latest facilities, Slides and quality services, is having all required facilities.It is also amongst the best water parks in delhi. This water cum amusement park also has a resort in the complex and is a great place to spend a summer vacation weeked with kids. With around 18 rides, the park offers lots to do, especially for younger children. There are also a number of adventure games such as ropeclimbing and Burma bridge walking organized for them.
Attractions: Singh Dwar, Rainbow Godzilla, Black Thrill, Katrina Twist, Romeo Juliet, Friendship, Mini Aqua Rides, Surfer Paradise, Monsoon, Together
Amusements: Horse Carousel, Break Dance, Swing Chair, Columbus, Bull Ride, Mini Train, Aero Ride
Adventure Games: Burma Bridge, Tug of war, American trolly, Balance Walking, Commando Tunnel Crawl, Spider Web, and Paintball
Phone: 082 85 111561
Hours: Wednesday 10:00 am – 7:00 pm
Just Chill Water Park | Main GT Karnal Road, near GTB Memorial, New Delhi-40
Splash Water Park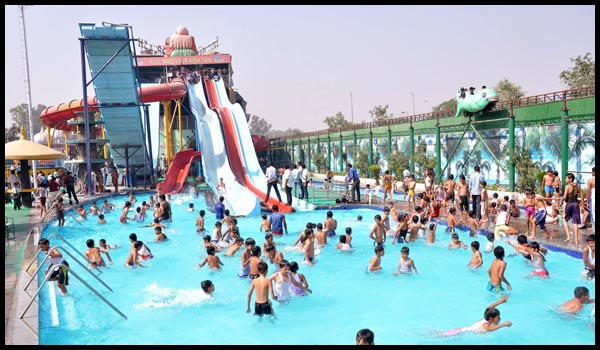 The Splash Water Park in delhi is the water park for fun with water slides, simulated rain dances and wave pools. Splash sited within natural beauty, it offers packages for students, families, corporate and Institutes.
The Splash Water Park is an initiative of Sagu Dreamland Pvt. Ltd. It has many different water rides that one cannot help but get drowned in. It features water slides, a wave pool and a refreshing waterfall as well. The Kiddies Pool is where you can let your kids go free as it is quite shallow. A day might just fall short if you want to make full use of each ride.
Water rides: Aqua Dance, Kiddies Pool, Budha Water Fall, Mushroom Fall, Wave Pool, Swimming Pool, water fall, multilane slide, Hara Kari slide
Amusement Rides: Striking Car, Striking Car 2, Corrousel, Break Dance, Cup & Soccer, Mini Columbus, Mini ferris wheel, Sky train
Address: Main GT Karnal Road, Near Palla Moad, Alipur, New Delhi 110036
Phone: 011 2770 8503
Splash : The Water Park | Main GT Karnal Road, Near Palla Moad Alipur, New Delhi-36
Aapno Ghar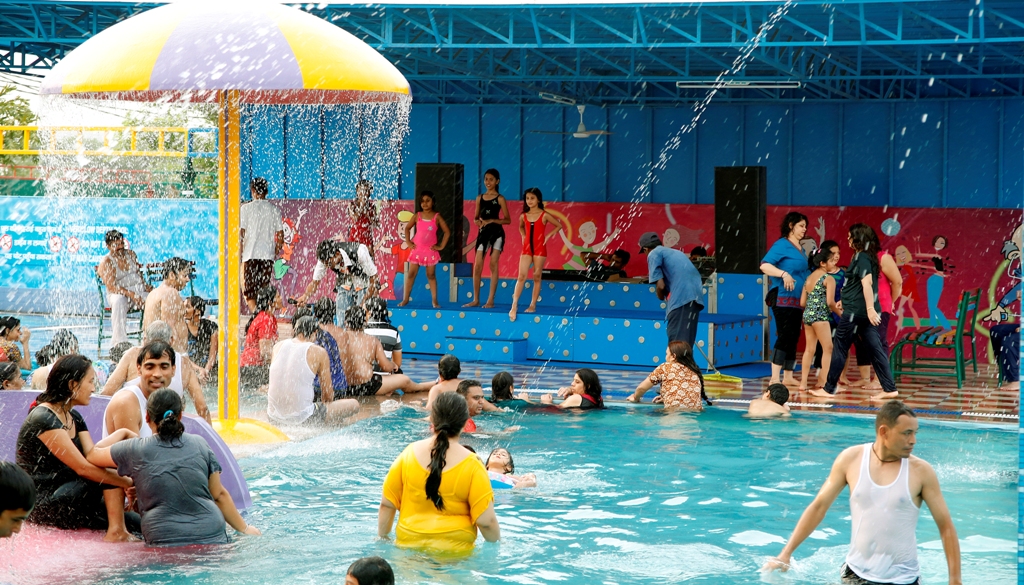 Aapno Ghar (a home of your own) is essentially the best amusement park in Delhi based Gurgaon which offers a key homelike characteristic where you can just be yourself. The park has just about every type of entertainment option available under one roof as it offers Outdoor restaurants for open air eateries, different rides with modern facilities, the famous rides in the park are Baby train, western train, caterpillar, flying bob, turn about, break dance, mono cycles, merry-go-round, pagal kishti, super trouper, water merry-go-round, flying dish, jet plane, partying facilities, accommodation options, restaurants & bars etc. You name it and they have it. Entry tickets are available at Rs. 700.
Address: 43rd Mile Stone, Village Shikhopur, Delhi-Jaipur Road, NH-8, Gurgaon, Haryana
Phone: 91-124-2371281, 2371282
Apno Ghar | 43rd Mile Stone, Village Shikhopur, Delhi-Jaipur Road, NH-8, Gurgaon-01
The Entertainment City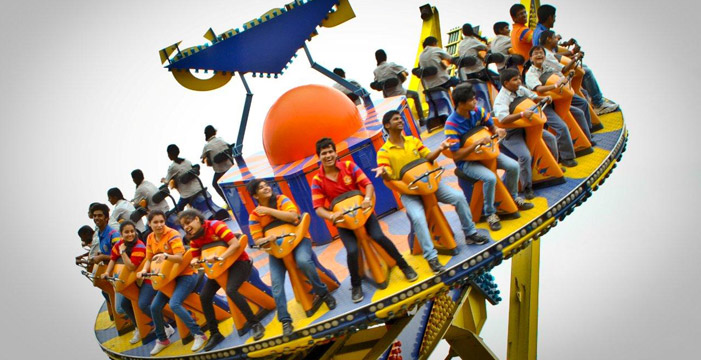 The E-City established in 2007 in Noida, spreading across 145 acres and largest Amusement Parks in Delhi, it has over 30 different rides that imported from European manufacturers. There are 3 zones that designed for Kids, Teenagers and Families, each zone have attractions and food courts. The E-City also offers 6-screen multiplex cinema, multiple theme park, retail outlets and indoor entertainment area.If you are an adventure junkie then this must be your best adventurous and exhilirating experience.
Address: FC-7, Film City, Sector 16A, New Okhla Industrial Development Area, UP 201301
Phone: 098 11 733739
Entertainment City (E-City) | New Okhla Industrial Development Area, UP 201301
Parkash Amusement Rides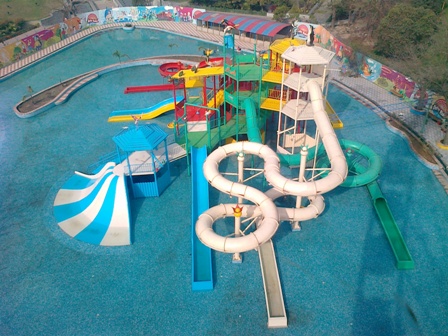 One of the largest Amusement parks in Delhi spreading in the huge space is equipped with modern entertainment rides and also offers several indoor games. Parkash is the ideal for fun with family, children's and friends, the food court here offers delicious foods, snacks and fresh juices.
Amusement rides: Carousel, Ranger, Frisbee, Hang Glider, and Tele Combat
Water Rides: Multi lane slide, Gaint Octopus, Aqua twister, Tube slide, Flume Raft Slide
Play ground equipments: Playstations, Slides, Swings, Stairs, and Bridge
FEC/Indoor Games: Video Games, Redemption, Skill/Gift/Novelties, Table (Pool, Air Hockey)
Address: 20, F.I.E, Patparganj Road, New Delhi, DL 110092
Phone: 011 2214 5124
Parkash Amusement Rides & Fun World | Patparganj Road, New Delhi, DL 110092
Jurasik Park
Located in Sonepat, this resort spread over 22 acres, boasts of an amusement park, other than a multicuisine restaurant and bar and banqueting halls. The amusement park has a number of water rides as well and also a go- karting complex. This is usually the best adventure parks in Prices range from Rs. 400-600, with weekend rates being higher. With all that it has to offer, Jurasik Park is the perfect weekend destination for families looking for a fun-filled outing. Ticket prices range from Rs. 600-1200.
Jurasik Park Inn | G.T. Karnal Road, National Highway 1, Sonepat-21